​The train was about an hour late in leaving. This time I got our reservation correct and there were no hiccups along the way.
Each compartment on 2nd class trains has stacked mattresses/seats like bunk beds. During the night two people climb up and sleep on the hard beds. Sheets are provided which seem clean enough even though there were some black hairs stuck to mine. Our bunk mates were very nice… an Indian family complete with grandpa and two children currently living in Dallas Texas working for Philips.
I had to pee twice during the night which totally sucked. And my curtain by the door kept getting stuck in the door letting all the light in. People were going back and forth to the toilet all night. There were only indian style squat toilets which can be challenging to use while rocking on a train. You have to yoink your pants in such a way that they don't touch the icky floor. They were nowhere near as dirty as I was led to expect. Maybe we got lucky?
We were supposed to meet a friend of a friend for breakfast since we had a few hours in bangalore but he didn't make it. I'm still not quite sure why. So we had some spicy breakfast in the train station and found the bus to the airport ourselves. It was pretty easy.
Our plane was delayed a few hours due to fog/smog so we splurged a while $10 and bought admission to the VIP lounge. It was so awesome! Free wifi free buffet and lazyboy chairs! And $12 wine.
On our bus from the airport to fort kochin, we got a flat tire and had to switch to the one which was pretty close behind us. I was really surprised how large and modern kochi (Ernakulam) is. We crossed a couple bridges to get to our smaller touristy area.
Fort kochi is really hot and muggy and there's really not much to see to be honest. It seems like it's famous for being famous. The shops and clothes are great but isn't that normally a byproduct not the main attraction to a place?
Carrie and I saved some puppies from getting squished on the road. I think mommy moved them into a sewer grate hole and under a car. Her milk bags were huge line she hadn't nursed them for a while but she was really distracted and hungry herself. A really nice guy working at a guest house who owns his own dog helped us out.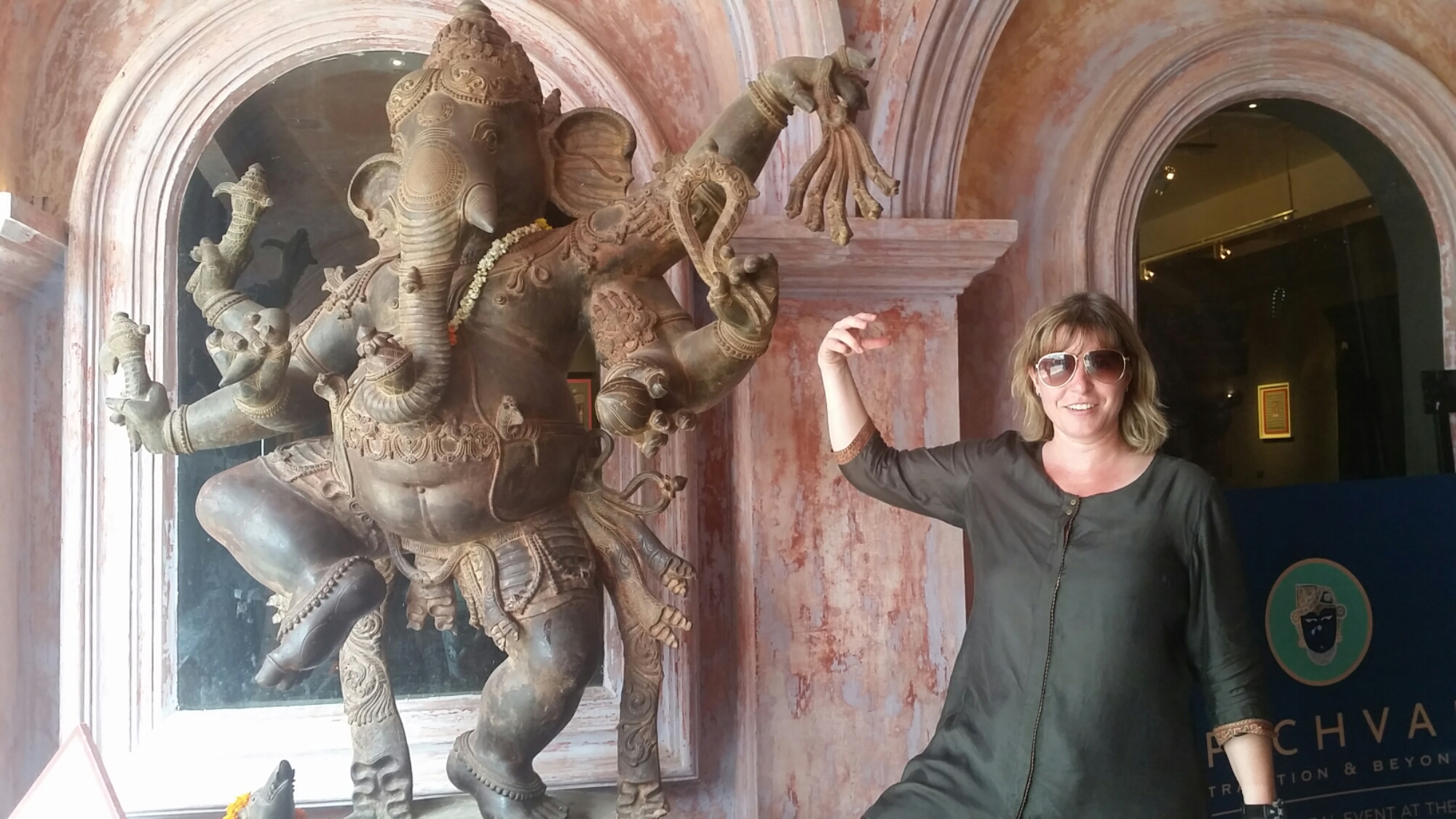 We found a really cool art exhibit / antique auction where Ganesha removed some obstacles for me.
The best part was going to a traditional Kathkali dancing demonstration. It was really cool except for the extremely rude crowd talking and coming and going. I've never seen anything like it. Anyways not crazy about the place. That is all. Next post: the backwaters of alleppy.